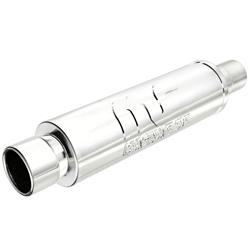 MagnaFlow 14808 Mirror Finish Stainless Steel Street Series Muffler and Tip Combos
Regular price $99.95 Sale
Magnaflow Universal Mufflers with Tips are polished stainless steel with a mirror finish for great looks. A deep, smooth tone is what make these Magnaflow Mufflers sound as good as they look. The high-flow design reduces engine heat and back pressure, which yields more power and improves fuel economy.
Muffler Material:Stainless steel
Case Shape:Round
Inlet Diameter (in):2.250 in.
Inlet Quantity:One
Inlet Location:Center
Outlet Diameter (in):3.000 in.
Outlet Quantity:One
Outlet Location:Center
Reversible:No
Internal Construction:Perforated stainless tube with packing
Muffler Finish:Polished
Case Exterior Length (in.):14.000 in.
Case Outside Diameter (in):4.000 in.
Outlet Style:Straight tip
Quantity:Sold individually.
Notes:2.00 in. long, single wall, straight-rolled edge tip.