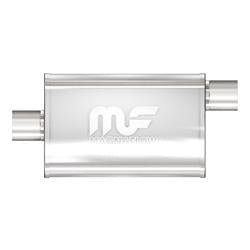 MagnaFlow 11226 Universal Performance Muffler
Regular price $93.30 Sale
MagnaFlow Performance mufflers are 100% stainless steel and lap-joint welded for solid construction and rugged reliability even in the most extreme conditions. They feature a free-flowing, straight-through perforated stainless steel core; stainless mesh wrap and acoustical fiber fill to deliver that smooth, deep tone. MagnaFlow Mufflers are packed tight with this acoustical material to ensure long life and no sound degradation over time.
UPC:841380000491
Muffler Material:Stainless steel
Case Shape:Oval
Inlet Diameter (in):2.500 in.
Inlet Quantity:One
Inlet Location:Center
Outlet Diameter (in):2.500 in.
Outlet Quantity:One
Outlet Location:Offset
Reversible:Yes
Internal Construction:Perforated stainless tube with packing
Muffler Finish:Natural
Case Exterior Length (in.):14.000 in.
Overall Length (in):20.000 in.
Thickness (in):4.000 in.
Width (in):9.000 in.
Outlet Style:Standard, without tip
Quantity:Sold individually.
Notes:Reversible for custom installation.